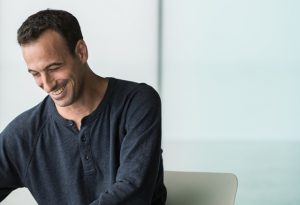 In September 2018 Hofesh Shechter's Clowns, our first ever short film, was broadcast on BBC Two in their Performance Live series. It was a hugely exciting project for us and, judging by the audience reaction, very successful, too.
Clowns was shot on location at the beautiful historic Rivoli Ballroom in London. Instead of being a straightforward stage-to-screen capture, Clowns propels the viewer into the heart of the action, surrounded by our ten exceptional dancers in a fully immersive and involving, almost 3D-like experience. 
We thought you might be interested in hearing from Hofesh himself about the process of making the film. Here he is in conversation with John Wyver from production company Illuminations:
John Wyver (JW): Hofesh, before this, in your practice as a choreographer and a composer, had film been an important part of your thinking and your practice and your influences?
Hofesh Shechter (HS): Yes, completely, and I think that people who know me and know my work, know that film for me is almost the main inspiration when I come to edit dance creation. It's incredible how different it is when you actually come in and make a film because a lot of the rules that apply on stage don't apply here, and tricks that work on stage don't work here. But I love films and I love music and the way that film brings music and image together.
JW: What about dance films and performance –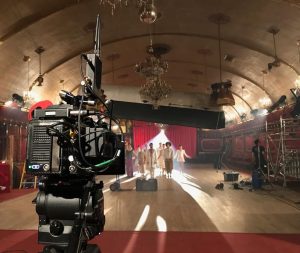 HS: – That I don't like. Dance films try to be loyal to the dance work, which I don't think works on screen many times. A film is taking away one of the most powerful elements of live performance, which is – for lack of better terms – the chemical interaction with the performers. You feel something when you see someone live and respond to this and the screen kind of kills it.
I think the compensation with the screen is that you can play with the point of view of the viewer. For example, you can get them, shove their head deeper into the cake, into the happening, and that in a way is compensating for the lack of chemistry or whatever that is. But yes, I think dance films are extremely problematic and I think to get the energy out of the movement through the screen can be really exciting, but also problematic over time.
JW: You made Clowns originally for Nederlands Dans Theater. When you were making it, did you have any sense that it might be a film?
HS: No, not with this one, actually. A lot of other pieces, sometimes I do think about it and I like imagining scenes in different locations than the stage. Clowns – no. Again weirdly, Clowns is very theatrical, the whole set up is that they are presenting something to an audience and they are showing us something. It is very much a relationship between performers and audience which made it all the more difficult to make a film out of it. I didn't have any fantasies of film back then.
JW: So given that, when there was an opportunity to make a film for this BBC series, why did you light on Clowns as the piece that you wanted to work with?
HS: A few reasons … Clowns is very simple as a piece, it has some entertainment, some blood, stuff that people like, and I thought if we try to bring dance to the BBC and to a place where a lot of people will see it …
I also really like the piece, I just enjoy it and the music, and it was of the right length … it was just the right moment to make a film out of it. It did feel as a piece to present to an audience that is not a dance audience, that actually doesn't know a lot about dance, it felt like something they would have access to a bit more easily. (Aside, jokingly) There is so much violence on TV, I just wanted to fit in.
JW: Just talk through the process of making it. First of all, the dancers did two weeks of rehearsal with Bruno [Guillore, Associate Artistic Director] to bring them back into the piece, and then you did a week with the director of photography and the first assistant just before we started shooting.
HS: Yes, that was one of the two interesting weeks, and the other one was shooting of course, which was fascinating. This rehearsal week was really interesting because Sebastian, the director of photography, brought the camera into the studio and we basically started choreographing him into the happening, into the space. It was just fascinating in the sense of discovering the possibilities, the limitations.
The first thing you discover when you start making a film is the budgets are way higher than contemporary dance – and yet you are absolutely limited in the ability to actually get and do the stuff you want to do. So I started dreaming very high and, you know, I was probably thinking about CGI and stuff that would cost ten times what we spent! It was interesting discovering the limitations and then trying to see how creative you can get within that.
JW: Did you enjoy it?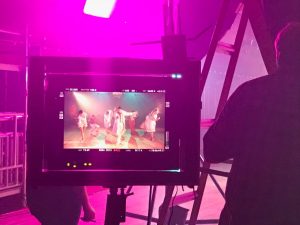 HS: So … yes. I did really enjoy it and I'm not exactly sure why. I arrived the first day to the shoot, to the filming and I was a little bit nervous (but not so much) because one of the worrying thoughts for me was, would I have to do the stupid thing where I shout "Action!"? Then I think you told me, "No, it's fine, we have music there, we can just take it from the count," and it was, like, okay.
I really, really enjoyed it. It is like a drug because it makes you go as quick as you can, as best as you can and try to think quickly.
On the second or third day we spoke about making a film and you said, "It's very difficult to make it do what you want it to do," and it's true! It almost never actually becomes what you want it to be and that's what is so addictive about it.
There's a lot you can try to do to save it later, in the edit room and the grading which I found really fascinating and depressing at the same time because again I think creating film is endless opportunities in the sense of light, in the sense of angles, in the sense of speed. Then you go to the edit room, you have another … you know it's like a tree that keeps on branching, just options all the time. But I find it really exciting.

JW: Are there things that you might take from the filming process and the production process into your work creating new live pieces?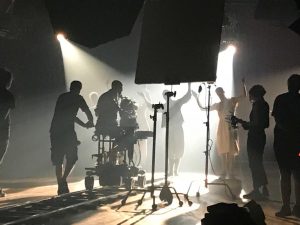 HS: It is very hard to say. It left something very hungry for that kind of experience. The experience on the set is just fascinating. If something, I would try to arrive more prepared to the filming set, like ridiculously prepared because it's impossible. I don't know, there is a paradox here because it's impossible to achieve what you want so there's no point planning, or plan really, really well and it will come quite close to it. My feeling is … planning really, really well and then improvising with what you have which is never what you want.
JW: So inevitable last question. Given the addictive quality of it, do you want to do more, and do you have a sense of what more you might want to do?
HS: I don't have a sense of what more. I think I need to practice, is my feeling. Yes, if anyone has an idea…
JW: And the budget!
HS: And the budget, and the time. No, I feel that I need to practice. I wouldn't think, "Oh wow, I want to make something massive". I would probably enjoy doing another one or two short things, to understand better how this works.
Hofesh Shechter's Clowns was directed, choreographed and composed by Hofesh Shechter, produced by Hofesh Shechter Company and Illuminations and commissioned by the BBC as part of the Performance Live strand – a partnership between BBC Arts, Arts Council England and Battersea Arts Centre, showcasing some of the most exciting artists working in performance today.